Advantages and Disadvantages of Artificial Wig
If you properly care for a natural hair wig for men, it will retain its good appearance and will serve you for a long time.
For natural hair wig care, use neutral products such as regular shampoo, conditioner, and fixative varnish.
We usually recommend a sulfate-free shampoo, as it retains keratin in the hair, making hair silky smooth.
The wig should be washed approximately once every 1-2 months. It depends on how often you wear it.
How to wash a natural hair wig for men?
Carefully but gently comb the wig with the comb, gently detangling any tangles.
Dampen hair with lukewarm water and apply shampoo on it with stroking hand movements from roots to ends.
Rinse the wig in warm water several times until the shampoo is completely removed.
Apply conditioner or balm to the wig, stroking from roots to ends.
Gently blot the wig with a towel or tissue.
NEVER TWIST OR RUB THE WIG !!!
Dry your wig at room temperature. Comb gently away from the roots, starting at the ends of the hair and not touching the base of the wig with the comb.
Important instructions to care hair wig for men
Natural hair can be rolled up with non-hot electric tongs and dyed. But keep in mind that, like any human hair, hair wig for men can be damaged by the oxidizing agent contained in the hair dye or burned with a very hot curling iron.
 Therefore, we recommend using gentle products: tint shampoos for painting and thermal curlers or simply styling curlers.
A wig is an opportunity to transform and change your image every day, without exposing real hair to constant exposure to dye and thermal styling. It is enough to purchase several different models to always look "fresh" and attractive.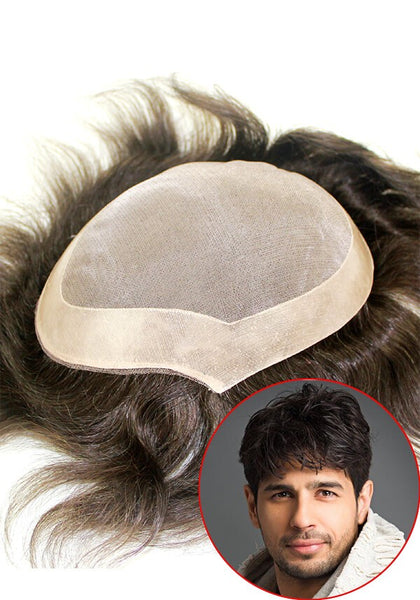 Modern technologies have reached such a level that artificial hair cannot be distinguished from real. However, in order for the purchase to retain its original appearance, look neat, it will need care and, which is especially important, the correct combing of the strands.
When and how to comb your wig?
Like natural curls, artificial hair wig for men require constant attention.

A wide-toothed comb or comb should be used every time before, after, and before wearing a wig.

To carry out such procedures conveniently, we recommend purchasing a special wig stand. If this is not possible, use a regular glass jar.
  
Before starting combing, you need to inspect the product and assess how tangled the hairs are.
WIG COMBING RULES
Take into account a simple instruction:
First you need to divide the strands into several bundles and, with light movements, begin to draw with a comb along the tips. 
Further, slowly move to the roots. 
If the hair is tangled too much, it is best to try to detangle it by hand, and only then help with a comb. 
In extreme cases, the appeared knot or puff is cut off with scissors. But getting carried away in this way is strongly discouraged, otherwise, after a few socks, the accessory will noticeably thin out. 
The main rule is not to rush. You don't need to pull or pull out your hair if it won't give way. 
Calmly, slowly, without panic, try to smooth out all the hairs. 
If you take care of the hair wig for men every day, do not run its appearance, then tangles and puffs will not threaten it.

Treat fake curls just like you would your own and your wig will last longer than you expect.
Do I need to save on buying a wig?
Any woman who wants to buy a wig for the first time in her life will think about the opportunity to save money. Natural ones are too expensive. At first glance, artificial ones are indistinguishable from real ones. Will the savings pay off? This can be understood by comparing the advantages and disadvantages of both products.
Pluses of naturalness
A real hair wig for men product has many advantages:
Natural look in any light. 
Pleasant tactile sensations from touching the material. 
Possibility of any treatment - haircuts, styling, curling, shampooing, blow-drying. 
Good tolerance to any temperature. 
The ability to choose any image. 
Psychological comfort - it is easier to get used to a natural product and to feel it like your own hairline. 
Long service life. 
Absolute safety - no harmful substances will be released during any processing. 
Cons
Yes, a natural wig has its drawbacks:

Sensitivity to climate change and weather conditions - the hairstyle disintegrates from moisture, the color may change from the scorching sun. 
The need for constant care, otherwise you will have to wear an untidy broom on your head (and such a product is heavier than an artificial one, and it is more difficult to care for it). 
High price. 
Faux hair wig for men benefits
The days when a product made from artificial hair looked like a colored homemade loofah is gone. Today, modern technologies are used for their manufacture. As a result, they look almost indistinguishable from natural ones.
THEY HAVE THEIR OWN ADVANTAGES:
The hairstyle looks quite natural and neat. 
The product keeps its shape well and does not need styling. If it nevertheless cakes, it is enough to sprinkle it with cold water and make a shaking motion - and everything will return to normal. 
In any weather, the view will be flawless; under the influence of ultraviolet radiation, the color will not change. 
You can make a haircut of the product, curling with ordinary curlers. 
The lightness of the product and comfort, especially in the hot season. 
The budget cost will allow you to have several options at once. 


Of course, hair wig for men also have disadvantages.
They:

Less durable than natural ones. 
They do not tolerate high temperatures, therefore they are not "friendly" with a curling iron and a hairdryer. 
They do not like ordinary shampoos, balms and conditioners, they need special products. 
What to choose in male wigs?
If you've never tried wearing a wig before, choosing between real and fake can be difficult.

In this case, it is recommended to purchase a quality artificial one. Buying it won't hit your budget hard, and it's easy to care for. Try it and decide if you're comfortable.

If so, feel free to buy a more expensive hair wig for men. It would be a shame to buy an expensive model right away - and then realize that you don't want to wear it.
Hair loss in men is quite common. But not everyone is ready to put up with thinning hair and have a haircut "bald". This issue is especially acute among men leading a media lifestyle: among actors, models and pop artists.

Office workers increasingly hide this flaw.
How to get rid of the thinning crown or receding hairline at the temples?
There are three options:
Shave "to zero" and maintain such a "haircut" all my adult life.
Get hair transplant. An expensive procedure, for which specialists do not guarantee the result.
Buy hair wig for men or hair piece. 
Let's analyze the last method.

According to statistics in America, about 7 million men wear false hair. A popular and natural thing for Americans.
WE SELECT A MEN'S WIG
Determine your size, hair color and hairstyle shape. It's good if you can get into the salon and try on models of various lengths and textures on the spot.

THE MAIN THING WHEN CHOOSING HAIR WIG
The most important thing is the quality of the material. After all, the most important aspect when buying is a natural look, so that no one can suspect that this is not your head of hair.

Avoid cheap synthetics. In them you will look funny and ridiculous. Two or three washes and this hair wig for men will look like a washcloth.

Advantages of Kanekalon Men's Wigs:
Ease
Hypoallergenic
Naturalness.
Does not require styling, perfectly keeps the given shape of the hairstyle.
Relatively low price.
You rarely need to wash your new hair. 
 
Of the minuses - fragility, the mandatory use of special care products and kanekalon is high temperatures.

Natural men's wigs are durable, natural and easy to care for. However, the price of such wigs is one level higher.