An Ultimate Guide to hair fall prevention for Beginners
A bald person's success largely depends on his mens hair replacement technic. The proverb "They are met by clothes" does not lose its relevance. Nowadays, in some areas of professional activity, appearance is, without exaggeration, a key criterion when choosing an employee. And for psychological comfort, it is important to be satisfied with your appearance.
Therefore, for many, the problem of baldness, or alopecia, becomes very painful. Even if hair loss occurs evenly along the edges of the hairline and there are no sharply distinguished bald spots.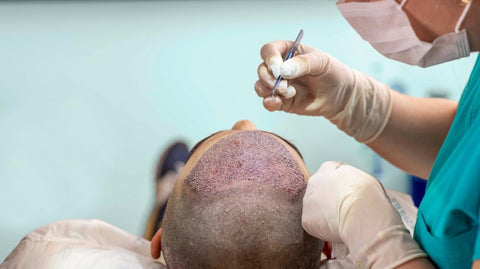 What are the major reasons behind baldness in men?
Baldness can have many reasons: for example:
the consequences of diseases or their treatment
improper hair care
Heredity
unhealthy diet, and so on.
It is not surprising that baldness masking methods are gaining popularity today. And we are not talking about well-known wigs - too many inconveniences come with the use of such "designs". Now there is a more convenient way for the "carrier" - hair replacement systems.
What is a mens hair replacement technic?
The process of using a mens hair replacement technic system is generally similar to using a wig. But it is a much more modern, perfect and user-friendly option for masking baldness. Hair, carefully selected in accordance with the client's request and the characteristics of his lifestyle, is manually attached to the mesh base with special knots.
It takes into account the type of skin, the desired thickness of the hairline, and the types of hairstyles that a person wants to wear. Similarly, the preferred method of hair care, the intensity of various sports, including swimming, other hobbies and other factors are also important.
How to give hair a natural look using hair replacement technic?
Hair looks absolutely natural. Moreover, it is permissible to dye it, create parting, combing and other effects, washing, winding and styling with a hairdryer.
Moreover, hair length can vary from three to four to 70-80 centimeters, so that the hairstyle is popular in both men and women. In addition, hair replacement is common not only for adults, but also for children. Furthermore, it improves the child's social adaptation.
How does mens hair replacement technic system work?
Hair in replacement systems can be:
Natural
artificial, synthetic or
 Natural hair imports from different countries and has its own characteristics. Chinese hair, for example, is good for smoothest and strongest, but it is thicker than others and is less easy to style, and has a limited range of colors.
 Slavic hair is better styled and varied in color, but shorter and thinner. Indian, Brazilian and other hairs also have their own characteristics. Also, yak hair is often used, which has long been used to make wigs.
Mens hair replacement technic is a non-surgical method of hair restoration using the system. The hair system consists of natural hair attached to the finest silicone base. Moreover, it fixes on the scalp with a special glue. The system can be worn for a month without taking off.
Feel confident in yourself
People choose mens hair replacement technic to:
feel more confident;
look young and respectable in front of clients and partners at work;
Be attractive to the opposite sex. 83% of girls pay attention to men's hair. *
* according to independent surveys
No one will notice the hair system
The border between the system and the skin is invisible thanks to the finest silicone.
Even by touch, it is very difficult to determine the presence of the base of the hair system into which the hair implants. The person close to you will not be able to recognize it when touched. You can again enjoy such a familiar gesture - run your hand through your hair, throwing it back
We will select a hair color that is identical to your own. Ready-made systems in dozens of shades are available:
We will select "your" color, and the system will easily "blend" with your own hair.
Mens hair replacement technic apply once and forgot for a month


Generally, the mens hair replacement technic for men attaches with glue and lasts a month. This is not a wig that needs to be constantly adjusted and put on and off every day. A good salon will fix and trim the hair system. After a month, you must not re-fix the same system. It remains only to wash and comb your hair on your own.
In the hair replacement system, you can go to the bathhouse and sauna. You can go in for sports: run, swim, go to the gym. 
What are the alternatives?
In Europe, 30% of men are bald: someone shaves off the remaining hair, and someone is looking for solutions. There are several options: wearing a wig or a hair piece, getting a hair transplant, or using a hair replacement system.
Wig and hair pieces: It is easy to buy, but the joints of the wig with the head are noticeable with certain haircuts. It is necessary to fix it every day and correct it in everyday life. 
 Hair transplantation: Serious surgery and recovery period 2-3 weeks. Moreover, the effect is not guaranteed. In addition, not suitable for complete baldness.
Our company has specilization in baldness correction methods. We offer: wigs, hair extensions, thickeners, hair systems. We recommend the hair system as an analogue of your own hair, reliable in fixation, and at a price comparable to a wig.
Advantages and disadvantages of a mens hair replacement technic system
Another name for the hair replacement system is the smart wig. It really has a number of serious advantages over its "ancestors". Due to its tight fit to the skin, the system looks more natural, and it is also suitable for partial hair replacement, while conventional wigs hide the entire head.
The strength of the structure allows a person to feel confident and not be afraid that a strong wind or a naughty child of friends will reveal to everyone the secret of a magnificent hairstyle. The hair replacement system does not need to be taken off at night, washed and combed separately, the same care as for the "native" hair is enough for it.
How does hair replacement system work for women?
The mens hair replacement technic system for women allows styling of different lengths and volumes, rather than masking baldness with advantageous hairstyles.
The most obvious disadvantage of re-placement is that hair does not grow in the system. Therefore, when partially replacing hair, especially long hair, you need to carefully monitor their ratio so that the difference in centimeters is not striking.
As we said, the system attaches itself to the skin using adhesive materials, and if the mesh structure allows the skin to breathe, then the adhesive itself can cause allergies, even itching and rashes. The bases with silicone inserts around the edges keep air out of the attachment points. Similarly, it can also lead to skin irritation.
Conclusion
Generally, it is also necessary to carefully monitor the state of the structure and protect it from all kinds of damage. The violations of the basis of the mens hair replacement technic system negatively affect its entire form. Also, do not forget about the limited service life of the system: it needs changings once a year.