HOW TO FIND THE PERFECT WIG?
Choosing a hair patch is a very enjoyable experience. Not just shopping, but a way to change your style, add a fashionable accessory to your wardrobe. Women's wigs are the go-to tool if you have problems with your own hair. 
In addition, it is an opportunity to change your appearance according to your mood without spending time and money. The need to constantly tint the roots will disappear. You will not need to do styling at the hairdresser.
WHAT TO CONSIDER WHEN BUYING A HAIR PATCH?
MATERIAL.
On sale you can find products from artificial and natural hair, as well as from their combinations.

Natural ones hair patch is usually of the Slavic type, i.e. straight or wavy, and preferably light colors. They are easier to cut and dye. Strands of these two types can be combined.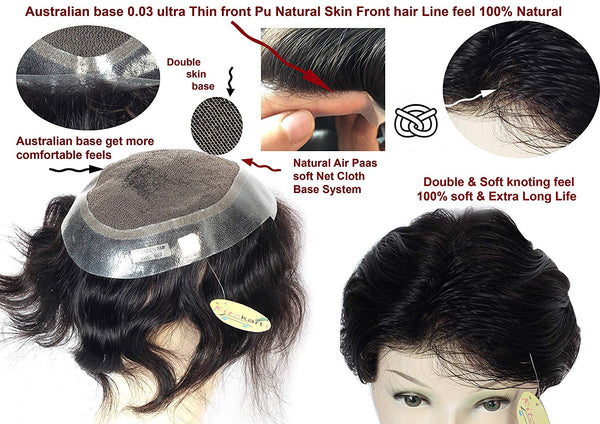 Pros of kanekalon: looks quite natural; does not fluff in high humidity; serves for a long time, keeping its original appearance; easy to comb; has a beautiful shine; strands are eight times lighter than natural ones.
SIZE 2.
For women with a small head, it ranges from 52 to 54 centimeters.
For standard female models, it is from 55 cm to 54 cm. 
The largest size is 58-60 cm in circumference. 
 If these three sizes are either small or large for you, it is worth looking or ordering an individual option.
LENGTH.
Usually it is (cm): short - up to 25; medium - 26-35 cm; long - from 35.
4. HAIR PATCH HAIRSTYLE
The haircut and the desired color are easy to match, regardless of age and face type. After all, the choice of hair patch is quite wide: from "youth" creative options using unusual colors to classic elegant, natural shades. The hairstyle should match the style of the dress. 
For business meetings, meetings, work events, strict, no-frills lines in the form of lush curls are suitable. On a romantic date, long curly curls or short haircuts with wave styling will be quite appropriate. Lovers of a sporty look usually prefer practical hairstyles, short haircuts.
COLOR.
Shades should correspond to the age category, to match the color of the eyes. In the assortment of hair salons, there are always models of natural tones and creatively colored, with fashionable, spectacular strands of bright colors.
STRUCTURE.
Choose the structure of hair patch you want: straight, curly or wavy.
FOUNDATION.
A cap for fixing strands is one of the most important aspects that determine how your purchase will look. The highest naturalism comes by hand. Each hair is tied onto a monofilament (visually looks like a scalp). A mesh along the hairline complements the effect.

Low priced models have some drawbacks: fixed parting: less identity with natural skin and hair.
COMFORT IN DAILY USE
The product must provide ventilation, fit tightly on the head. It is desirable that their composition is anti-allergenic.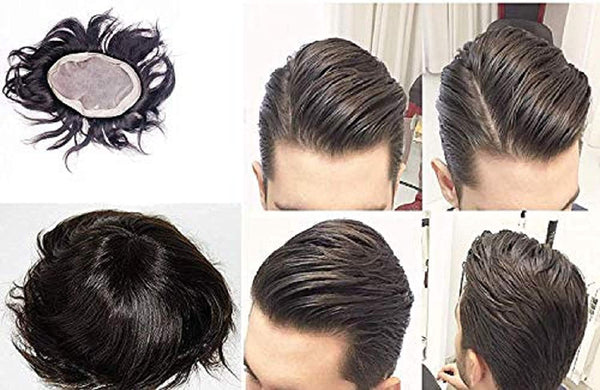 CATEGORY:
long or short hair; Bob haircut; volumetric styling; mono with imitation leather; "deluxe" - elite artificial hair; natural inexpensive.
Natural hair wigs must be styled after each wash. At the same time, the laid form is subject to changes under the influence of weather conditions. 
The main advantage of natural hair wigs is the ability to model different hairstyles. They can be permed, styled with an electric curling iron or hair dryer. If desired, the natural wig can be dyed in a different color. In this case, the product requires special rules for storage and transportation. 
CARE INSTRUCTIONS FOR NATURAL HAIR PATCH
For the care of natural hair products, neutral products are suitable, such as regular shampoo, conditioner, fixative varnish.
1. Carefully but gently comb the hair patch comb, gently detangling tangled hair.
Gently comb the product away from the roots, starting at the ends of the hair and not touching the base.  


HOW TO CARE FOR AN ARTIFICIAL HAIR PATCH?
No special products are required to care for the product. It is recommended to wash the product once every two to three months. In this case, use neutral products: shampoo, conditioner, hairspray for light hold.

If the hair of the wig is slightly tangled, it is necessary to comb it with a special comb or comb before washing. Next, dissolve the shampoo in cold water and immerse the product in water for 10-15 minutes. 
Wash off the shampoo completely with cool water. Then dissolve hair balm or conditioner in cool water and lower the product for 5-10 minutes.
 Rinse the product thoroughly with cool water. Wrap a clean hair patch with a towel until excess moisture is completely absorbed. Do not twist the wig hair. Until completely dry, it is advisable to place the wig on a mannequin or any other support.

To prevent damage to artificial hair, do not use a hot hair dryer, electric tongs or hot rollers for styling. Store the wig in a cool dry place.
If you follow these rules, a wig made from artificial hair will retain its attractive appearance for a long time.
ARTIFICIAL HAIR PATCH LIFE
Subject to the rules of use, the service life is from 6 months to 5 years. 
How to overcome baldness and take care of male beauty?
Having well-maintained hair is no longer exclusive to women (thankfully!). Today, men are vainer and the market has followed this increase, launching products and services aimed exclusively at them. From ointments to model prostheses and hair implants, men have been increasingly careful, proving that worrying about their appearance is not just freshness.
Men's hair care
Many men have also left behind that old idea that they only need to shave and scent to look good by hair patch. Nowadays, many look for techniques to improve their appearance and consequently their self-esteem, including hydration procedures, lighting, progressive brushing and much more.
Gone, too, was the time when it was enough to sit in any barber chair and let the scissors run loose on the threads. The modern man seeks a good professional who, in addition to making a good cut, gives tips on how to keep hair always beautiful and healthy.
THE USE OF MALE HAIR PATCH FOR BALDNESS
The problem of baldness, which haunts all men, can be overcome and, more and more, prejudice has been left aside, causing them to run after quality solutions. To give you an idea, in the last 10 years, there has been an increase in the demand for hair patch of about 110% (around 25% per year). The increase in the search for a definitive solution for baldness, such as hair implant, grew 30% in the same period.