Types of Human Hair Wigs: Faux wig & Natural Wig
Do you want to buy male wigs? But do not know what types are and how they differ from each other? 
A human hair wig is distinguished by the origin of the hair and the attachment and base to which it is attached.
On our site you can buy a male wig from popular wig brands.
There are several types of male wigs fastening:
Tambourine. The hairs come to the base only by hand. This method makes the hair look natural.
Tresses.Hair is woven into ribbons that are attached to the base. Tresses give the hair volume and allow it to stick in only one direction along the hair growth. Wigs made with this method are much cheaper than wigs made with the tambour method. Similarly, there is an even more budgetary option - lightweight weft. They are lightweight and do not thicken the hair.
Combination. Generally, we can combine both methods of hair attachment in one wig. On the front and edge parts, a tambour is common to use. Similarly, we can attach tresses to the back of the head. Furthermore, this method is good because it combines low price, naturalness and quality.
Generally, the base of the wig plays main role. Quality, price and fastening method will depend on it.
The foundations of male wigs come from the following materials:
Monofilament - used for manual fastening method.
Nylon tulle - tresses are sewn onto it.
Stretch mesh - suitable for tambouring and tress.
Strips of stretch fabric - tresses are attached to them.


How are male wigs made?
Despite the fact that natural male wigs cost a lot of money, it is popular. And all because such a wig looks as natural as possible. 
Before buying a natural wig, you need to know how these wigs transform in order to choose the most suitable option for yourself.
Basically, natural wigs come from real hair. And the first point in making a wig is collecting them. Hair comes from Europe, India, Asia. Only healthy and well-groomed hair is selected.
All hair goes through a proper treatment, disinfected and bleached. Moreover, we can paint it in the desired color. And after that you can start making a wig. 
Companies make male wigs of Slavic hair, Indian, Chinese. The former is good to consider being of better quality than the others. They have a thinner hair structure, which allows for maximum naturalness of the product. 
What is the difference between natural wigs, except for the origin of the hair? The basics.
They are:
- Mesh;
- Tress;
-And tress with mesh surface.
Tress is a piece of fabric to which hair is attached. Wigs only on a tress basis are available on smart budget, but they have a significant disadvantage - The scalp does not breathe in them, and such wigs are not suitable for long-term wear.
Mesh male wigs are the most expensive. Because they are made by hand, and this is a very painstaking work - each hair is individually attached to the net. These wigs are very light and comfortable to wear. Hence, it is suitable for long-term wear.
Tress with mesh insert - medium version. If your budget does not allow you to purchase a wig on a mesh basis, then such a wig will be an excellent solution. Made by half hand and suitable for long-term wear.
What are false male wigs used for? 
To hide the lack of hair in some areas of the head or to add volume to your hair. 
False hair includes:
false bangs
occipital strands
overlays on the crown
half wigs
Generally, false hair is lighter than wigs, attaches with small hairpins and does not feel at all in the wear. If you choose the right color for the patch, it will be difficult to distinguish it from real hair.
This is a great solution for those who do not need a full wig, but only need to hide some flaws or change their image. The hairstyle will look natural and you cannot limit yourself in the choice of styling. 
If you have thin and sparse hair, then overlays will be a good choice when changing your image, as they are completely invisible to others, and allow you to put them on and off without difficulty.
If you are interested in any type of male wigs, then our store of wigs offers a large selection of them, and on the site you can see the full and current range. And order them through the online wig store, simply by clicking on the "order" button.
Which is better: faux wig or natural hair wig?
When buying wigs, the most pressing question is: buy an artificial wig or buy natural male wigs? Which is better? Let's figure it out.
Generally, natural wigs look natural. If the wig is of good quality, it will be almost impossible to tell your own hair from a wig.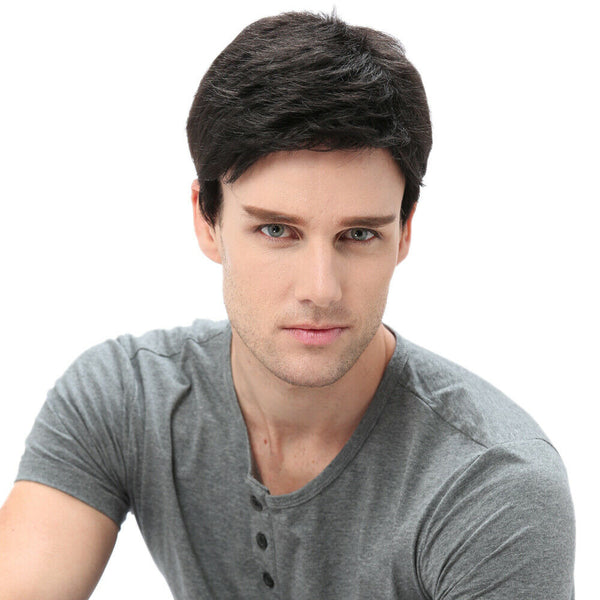 Pros:
A wig made of natural hair can be dyed and heat-treated - curled, straightened, and dried with a hairdryer.
If we care a wig properly, a wig made from natural hair will last from 3 years or more - this is much longer than the life of an artificial wig.
Cons:
Male wigs needs the same care as your own hair - washing, drying, styling. 
To make the wig look well-groomed, it will also need additional care in the form of masks, balms and conditioners.
The price of natural wigs is much higher than artificial ones.
Synthetic wigs are hair made from synthetic fibers. Popular materials:
1.kanekalon wigs;
Heat resistant fiber wigs;
Modacrylic wigs.
Pros:
Moreover, synthetic wigs are much cheaper than natural wigs.
Synthetic wig doesn't need styling.
Wigs made of thermal fiber or kanekalon do not have"doll" sheen.
Cons of male wigs:
Most shades have an unnatural look and shine.
If the wig is not made of thermal fiber and kanekalon, then it is very difficult to treat - curled, straightened. 
The service life of an artificial wig is up to 2 years, with proper care.
Sorted out the pros and cons of natural and synthetic wigs. Which one to choose is up to you! But we can give you a couple of tips:
If budget allows, it is better to choose natural male wigs or thermal fiber wigs.
It is best to choose a wig not by the material, but by the base. The best choice is hair replacement systems, wigs with a light mesh, mono wigs or a more budget option - wigs with a lightweight base.
Basically, buying a wig can be a daunting task. Only industry specialist can lead you towards perfect wigs for men. If you are looking for a reliable and long lasting hair wig at reasonable price, look no other than or company.